We are very excited to announce that Chi, psilocybin advocate/world traveler/man of mystery and founder of numerous psychedelic organizations such as Tripsitters, is joining as a special guest to do an AMA on Weds July 22 at 5pm PT.
Chi is a psilocybin guide, advocate, and retreat facilitator whose life is dedicated to sharing the mushroom message of love and light. He is the founder of truffles therapy, a psilocybin retreat organization that has guided hundreds of people on their psychedelic journeys. He is also the founder of Global Alliance of Psilocybin Practitioners, which provides community, training, and mentorship for guides and connects those seeking the medicine with those providing safe access. He also founded Amsterdam Psychedelic Community, tripsitters.org, and psilocybinfoundation.org. He advises and connects individuals and companies involved in the emerging psychedelic industry.
He has had the privilege to spend more than 16 months in silent retreat, including a month in dark retreat. He credits his success to his parents, his spiritual teachers, and psychedelic medicines. He bows down to all the Buddhas and bodhisattvas throughout space and time.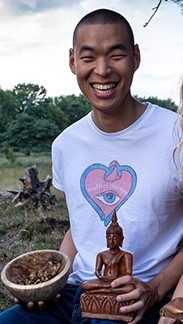 Please post your questions here for Chi to answer by 5pm PT on Wednesday! We will be recording an interview with him and posting the video response at that time.