⚡Quick Summary
Esketamine emerged as a patented alternative to ketamine, which is generic, so that there would be a financial incentive to conduct costly clinical trials for approval specifically for treatment-resistant depression.
Esketamine is more heavily regulated than ketamine.
There is still no published, conclusive evidence that either ketamine or esketamine is more effective than the other.
Esketamine is more likely to be covered by insurance (if only partially) than ketamine, though because of the additional requirements for treatment, paying for ketamine out-of-pocket may actually be cheaper than esketamine in some cases and often involves less obstacles towards treatment (such as prior authorization and large amounts of paperwork).
Discuss with us! Click on the orange bubble
What is esketamine?
Ketamine is a chemical that is made up of two different forms – S-ketamine (called esketamine) and R-ketamine (called arketamine). S-ketamine and R-ketamine are virtually identical, except for a minor difference that makes these two chemicals mirror images of each other. The term "ketamine" refers to an equal mixture of S-ketamine and R-ketamine. This article discusses esketamine by itself.
The FDA approved esketamine on March 5, 2019 for the treatment of treatment-resistant depression (TRD). Developed and marketed by Janssen (a subsidiary of pharma giant Johnson & Johnson) with the brand name Spravato, esketamine became the first new class of antidepressant that was approved since 1993. The FDA approval of esketamine marked the end of a notorious dry spell within psychiatry drug development. It is also the first FDA-approved psychedelic medicine and only the second drug approved to treat TRD.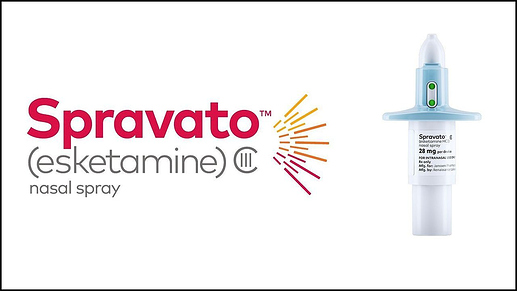 A bit of history
Before discussing the clinical aspects of esketamine treatment, it is important to understand some context around esketamine. As mentioned in the Osmind Wiki on ketamine , ketamine was approved by the FDA for general anesthesia in 1970 and has since become widely used by anesthesiologists in the operating room to sedate surgery patients and help reduce pain. Ketamine is an old drug whose patent expired in 2002. Because it has been generic for nearly two decades, its price has dropped tremendously. Beginning in the 1990s, researchers started doing experiments showing that ketamine (at a lower dose than is used in the operating room) could help alleviate depression. Since then, a large number of studies have been done by researchers and physicians to study these antidepressant effects. It has become clear that ketamine has rapid and substantial (though transient) antidepressant effects.
Because ketamine is not covered by a patent and has a low price, pharmaceutical companies are not able to earn a lot of money off of it. There is no incentive for any company to conduct clinical trials to move ketamine towards FDA approval for depression/TRD: clinical trials are extremely costly, and companies would not be able to recoup those costs by selling generic ketamine. Unfortunately, this has meant research on ketamine treatment for depression has been limited to academic groups and other research institutes. Without the financial support of a big pharma company, it is virtually impossible to organize and execute the phase II and phase III trials needed to gain FDA approval of TRD ketamine treatment.
Yet, as research studies increasingly showed that ketamine works well, and as pharmaceutical companies lamented the lack of novel classes of antidepressants within the therapeutic pipeline, pharmaceutical companies looked for a way to capitalize on the efficacy of ketamine treatment. They noticed that though ketamine's patent had expired, it was still possible to patent its two constituent molecules. Janssen patented the S-version of the molecule, and a company called Perception Neuroscience obtained a patent on the R-version of the molecule. Esketamine is FDA-approved while arketamine is in clinical development with a hope of FDA approval in the future.
The hope of these pharma companies was that esketamine and arketamine would work as well as (if not better than) ketamine, i.e. the combination of both esketamine and arketamine. With the esketamine patent, Janssen now had incentive to invest in clinical trials. It ran the clinical trials and was able to get esketamine through the FDA process to become a new approved medicine. The esketamine development program received Breakthrough Therapy Designation and Fast Track from the FDA because the FDA recognizes that TRD is a huge unsolved problem, and because there existed preliminary evidence to suggest that esketamine would provide an advantage over existing treatments.
Perspective
The FDA approval of esketamine legitimizes the TRD ketamine treatment industry. Though researchers had studied TRD ketamine treatment for years, there still existed a stigma against ketamine, in big part due to its classification as a psychedelic medicine and its illegal abuse as a recreational "club drug." Now that esketamine is FDA approved, it has brought ketamine treatment into mainstream discourse and understanding. As the first FDA-approved psychedelic medicine and the first new class of antidepressant approved since 1993, esketamine could possibly mark an inflection point in psychiatric drug development and the beginning of a psychedelic medicine renaissance.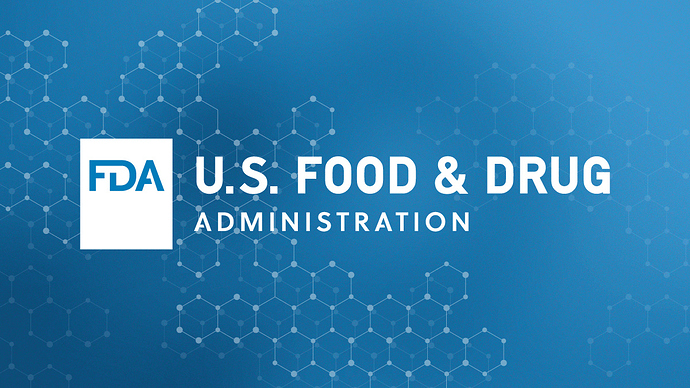 What is esketamine treatment like?
As an FDA-approved medicine, esketamine is subject to many more regulations than ketamine. When the FDA approved esketamine, it imposed a set of rules called the Risk Evaluation and Mitigation Strategy (REMS) that are designed to diminish the risk of inappropriate esketamine use. The FDA has stated that REMS was also implemented to ensure monitoring of side effects such as sedation and dissociation, in case serious adverse events result. All esketamine treatments must follow the REMS protocol, which is described below.
Spravato is nasal spray that can only be prescribed to patients who have TRD, in this case defined as the patient having failed to respond adequately to at least two prior antidepressant treatments. Esketamine must be administered as a nasal spray and the patient must be taking another antidepressant throughout their esketamine treatment; at least for this initial FDA-approved protocol, esketamine is not meant to be a standalone treatment but instead an augmentation of another antidepressant.
Rather than being able to pick up Spravato at the pharmacy or taking the spray home to use on their own, patients must receive Spravato within a Janssen-certified clinic. Clinics must undergo a special process to be able to provide esketamine treatment. Patients go to the certified clinic and receive the treatment: patients need to self-administer the nasal spray under the direct supervision of the provider and be monitored for at least two hours by a provider after the spray is self-administered. After the two hours passes, patients can leave and must be driven home.
As part of the REMS protocol, the FDA mandates that every patient who receives esketamine treatment must be entered into a patient registry with clear documentation of the treatment and the two-hour post-treatment monitoring. The esketamine never leaves the clinic.
The recommended course of treatment is twice a week for four weeks, with boosters as required. After four weeks, the provider should evaluate the patient's progress and determine need for continued treatment. These first four weeks are known as the induction period. From the fifth week onward is the maintenance period, during which treatment frequency is decreased to once weekly. At nine weeks, the provider should adjust the dosing frequency to the minimum to maintain response or remission. These are guidelines set forth by Janssen; patients should work with their physician to find the best treatment protocol for them.
Is esketamine effective?
The FDA approves drugs that are safe and effective, and the esketamine clinical trials met the FDA's bar in demonstrating efficacy and safety. The FDA described the results of the clinical trials in its press release on the approval of Spravato:
The efficacy of Spravato was evaluated in three short-term (four-week) clinical trials and one longer-term maintenance-of-effect trial. In the three short-term studies, patients were randomized to receive Spravato or a placebo nasal spray. In light of the serious nature of treatment-resistant depression and the need for patients to receive some form of treatment, all patients in these studies started a new oral antidepressant at the time of randomization and the new antidepressant was continued throughout the trials. The primary efficacy measure was the change from baseline on a scale used to assess the severity of depressive symptoms. In one of the short-term studies, Spravato nasal spray demonstrated statistically significant effect compared to placebo on the severity of depression, and some effect was seen within two days. The two other short-term trials did not meet the pre-specified statistical tests for demonstrating effectiveness. In the longer-term maintenance-of-effect trial, patients in stable remission or with stable response who continued treatment with Spravato plus an oral antidepressant experienced a statistically significantly longer time to relapse of depressive symptoms than patients on placebo nasal spray plus an oral antidepressant.
The approval of Spravato was based on five pivotal phase III studies – three short-term studies, one long-term withdrawal maintenance of effect study, and one long-term study. In one short-term study, Spravato given concurrently with an oral antidepressant significantly improved depression symptoms versus the antidepressant alone in TRD patients under age 65. In the second short-term study, an older patient group (age 65 and older) taking esketamine with antidepressant did not show enough improvement compared to placebo with antidepressant to meet the threshold for statistical significance. Janssen argued that the improvement was still "clinically meaningful." A third short-term study also did not demonstrate statistical significance of the primary endpoint, meaning esketamine was not shown to lead to a significant change in depression severity rating scale score at four weeks of treatment.
In the withdrawal maintenance of effect study, data showed continuing treatment with esketamine with an oral antidepressant beyond 16 weeks demonstrated statistically significant longer times to relapse of depression symptoms compared to placebo with oral antidepressant. This study also showed esketamine could lead to a 51% decreased risk of relapse. In the other long-term study, esketamine was demonstrated to be safe for up to 52 weeks with a sustained improvement in depressive symptoms.
Of the trials presented to the FDA, the evidence base was mixed. Two of the short-term studies failed to meet their primary endpoints and did not yield statistically significant results. However, the longer-term trials yielded positive results. This evidence was sufficient for the FDA to deem that esketamine is an effective treatment and the benefits outweigh the risks.
Like ketamine, the benefits of esketamine manifest very quickly, usually within hours or days. This is in contrast to antidepressants such as selective serotonin reuptake inhibitors (SSRIs), which could take 6-12 weeks to have an effect. The efficacy of esketamine and ketamine appear to be somewhat comparable, but no head-to-head trials comparing the two drugs have been published [Andrade 2017]. Thus it is not possible to conclude whether ketamine or esketamine might be more effective.
Is esketamine safe?
Esketamine is safe; the FDA has evaluated and approved the esketamine safety profile. In one long-term study as part of the FDA approval process, esketamine was demonstrated to be safe for up to 52 weeks with a sustained improvement in depressive symptoms. Since there have been no trials studying esketamine safety past one year, it is not possible to draw conclusions on longer-term safety until more data accumulates.
Like most new drugs, there are certain side effects. These may include disassociation, dizziness, nausea, sedation, vertical, decreased sensitivity, anxiety, increased blood pressure, vomiting, and feeling drunk. Please see the Spravato website for detailed information on possible side effects.
How to choose between ketamine and esketamine
There have been no published head-to-head trials comparing ketamine and esketamine. Therefore, it is not possible to claim in an evidence-based manner that one is more effective than the other.
That said, anecdotal evidence from some patients and providers suggest that esketamine may not as effective as ketamine. This is obviously not based on clinical trials or research. Patients should talk to their providers to determine whether esketamine or ketamine would be a better fit. One consideration is that Spravato must be taken as a nasal spray, which may make it less effective since this delivery method decreases bioavailability of the drug compared to intravenous (IV) or intramuscular. As an example, IV ketamine is known to have a response rate of 70%, while one study of intranasal ketamine showed response rate at 44% after 24 hours [Mathew et al. 2012, Lapidus et al. 2014].
Because there is no clear evidence that either ketamine or esketamine is better, patients should consider other factors in choosing between the two treatment modalities. As mentioned in the ketamine Osmind Wiki , ketamine treatments take the form of either infusions or ketamine-assisted psychotherapy. Esketamine on the other hand is a nasal spray (with the patient required to be on concurrent antidepressant treatment) followed by monitoring of two hours. Patients should decide if they prefer psychotherapy, infusions, or nasal delivery. Convenience of each modality may be different as well.
Cost is a key factor for patients. Ketamine treatments are generally cash-pay only. Patients are usually expected to pay out-of-pocket for their treatment. Some clinics provide the patient a "superbill," an itemized form that details services provided to a patient. Patients can use the superbill to create a healthcare claim and submit to their insurance or employer for reimbursement. Creating, submitting, and appealing insurance claims is widely known to be an extremely onerous process, fraught with convoluted submission protocols and constant rejections. Even worse, insurance plans generally do not cover ketamine treatment because ketamine is used for TRD as an off-label indication. Patients have had some success submitting reimbursement claims not for ketamine treatment, but for generic medical services. How much money a patient can get back for these claims varies widely among insurance plans and how the patient submitted their claim.
Because esketamine is FDA-approved for TRD, health insurance plans may be willing to provide partial coverage. The Spravato drug itself can cost nearly $800 or $900 per session, so at the recommended two sessions per week, the monthly cost could be as high as $7000. However, because of the FDA-mandated REMS protocol, each treatment session also necessitates two hours of supervision by a provider. The cost of treatment would then also need to include costs of these two hours of labor, which could be around $500 per session for psychiatrist supervision (but highly variable depending on the provider).
Unfortunately, it appears many health insurance plans have not been willing to cover the cost of labor for Spravato post-treatment supervision. This then places the burden onto the patient. As a result of this lack of full coverage from insurance plans, cash-pay ketamine treatment may be cheaper for patients than partially-covered esketamine treatment. Esketamine treatment also requires patients and providers to jump through a number of hurdles such as prior authorization, REMS, and large amounts of paperwork. Because of these logistical inconveniences, the high cost even after partial insurance coverage, and questions about clinical efficacy as compared to ketamine, many patients choose to pursue regular ketamine treatment instead of esketamine treatment.
This information is provided just for reference. Patients should work with their healthcare providers to make a personalized decision based on their own condition, preferences, experiences, and finances.
Related articles
New patient guide for ketamine
Ketamine treatment during COVID
References
Andrade C. Ketamine for depression, 3: does chirality matter?. The Journal of clinical psychiatry. 2017 Jun 28;78(6):674-7.
FDA - FDA approves new nasal spray medication for treatment-resistant depression; available only at a certified doctor's office or clinic
Mathew SJ, Shah A, Lapidus K, Clark C, Jarun N, Ostermeyer B, Murrough JW. Ketamine for treatment-resistant unipolar depression. CNS drugs. 2012 Mar 1;26(3):189-204.
Lapidus KA, Levitch CF, Perez AM, Brallier JW, Parides MK, Soleimani L, Feder A, Iosifescu DV, Charney DS, Murrough JW. A randomized controlled trial of intranasal ketamine in major depressive disorder. Biological psychiatry. 2014 Dec 15;76(12):970-6.
Additional readings