I wonder if the things my brain does to me are paybacks for all the things I've done to/with it?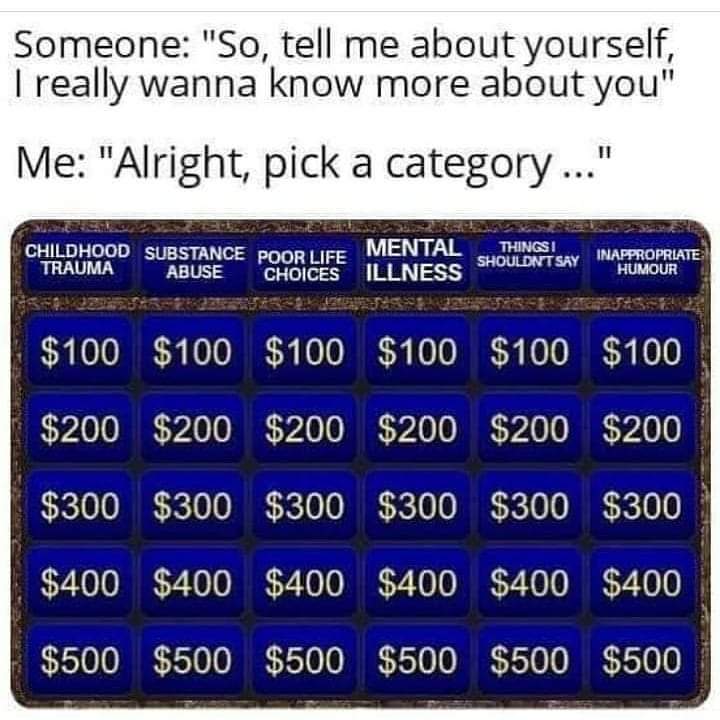 I think you might be right!
That's funny as hell because it's a reality some of us deal with
Inappropriate humor for 100
Kevin is right. That's actually funny as hell, probably because it's way too true.
"Things I Shouldn't Say". …. Hahaha! To quote a former total tool of a so-called manager "you're too candid."
Although the judge on Tuesday did thank me for my candor- I think he realized I was really restraining myself from tearing the defense attorney a new one. I was actually being GRILLED as a potential juror for a MOLESTATION case. You would not believe the incredibly, unbelievably personal questions I was asked since I answered honestly on the confidential jury questionnaire that I had experienced childhood sexual abuse, and knew others personally who had. I am still really pissed off about it. Not surprisingly I was excused from serving on THAT jury….
@Shepherdess, I hope I never get put in that situation, what a tough spot to be in. no room for objectivity, I probably be asking for the death penalty from the get go without knowing anything about it.
For some strange reason, I found now that reading humorous things about depression helps me. I have laughed out loud with some of the jokes I have been reading, it feels very healthy to me even though I know it is not a laughing matter, but it seems to lighter the load of it. My culture is known for making fun of most tragedies as part of their coping mechanisms, they are funny comments but never cruel or intended to hurt anyone. I hope these memes are being received with that intention in mind.
@Rafael Better to laugh than cry is my philosophy! Often that's pretty much the two choices.

Since if been off my Prozac and had my 6 infusions I'm feeling weird. Not a bad weird just indifferent. I cannot explain. I'm not as outgoing but I'm more ambitious. I don't know exactly how to explain
I love humor! I grew up on stand up comedy on tv in the 80's. Music and comedy seems to have gone down the shitter since then.
Drug transitions ARE weird. All the questions and observations floating around inside.
My therapist would say you have good insight.
Just keep swimming.